That's right. Was a little painful, but we managed to come out alive and kicking. Introducing a brand new look for CricketHuddle.com, which comes to you directly from our CH shacks.
This new look comes with the same, simple and intuitive CricketHuddle interface, that so many of you have come to enjoy.
What all has changed ?
A New Cricfeed: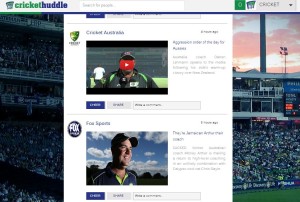 Cricfeed has changed. A vibrant new interface with a dynamic looking Cricfeed is what you asked for, and that's what you got. You gonna see this Cricfeed evolve, even more in the next couple of weeks. So keep checking this space for new changes.
Sharing your cricketing moments is easier …

CricketHuddle is truly about your Cricket. We have made the process of sharing your cricketing moments even more easier.
Just post your moment, photo, video, article or scorecard and in a SINGLE click share it not only on Crickethuddle account, but also on your Facebook and Twitter accounts.
This not only spreads your work within your own Cricket huddle, but also with friends, fans and followers on your other Social networks.
Changes to your CricketHuddle profile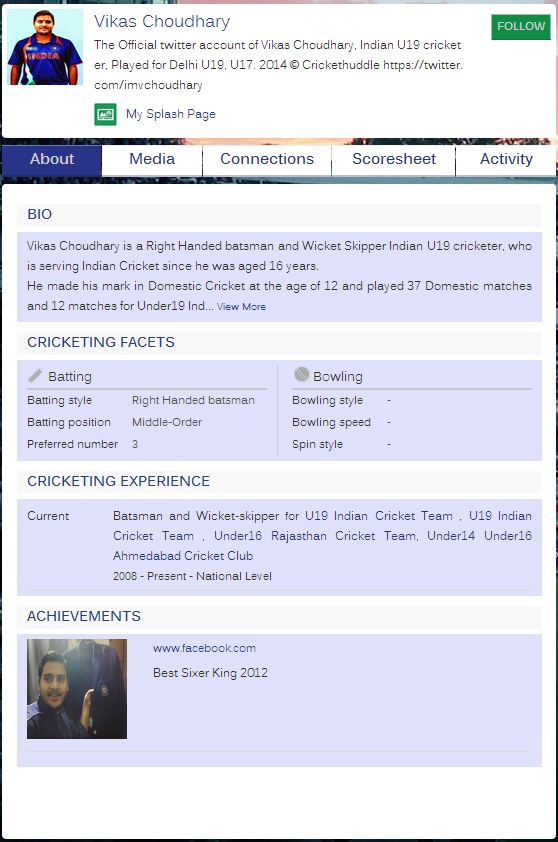 We bring you a new and improved CricketHuddle profile. With exclusive tabs provided for your Info, Media, Connections and Scoresheet, we plan to give you a holistic experience of all that's included part of your profile.
Check out how Under 19 India cricket player Vikas Choudhary has been using his CricketHuddle profile to leverage his cricketing identity.
Simplified Splash page
With minor tweaks and a simplified splash page, we want to further help your cricketing brand stand out.
If you want to know 'How to Setup your Splash page, click here for our previous post from "Getting started with CH series'.
Albert Einstein has said
"If you can't explain it to a six year old, you don't understand it yourself."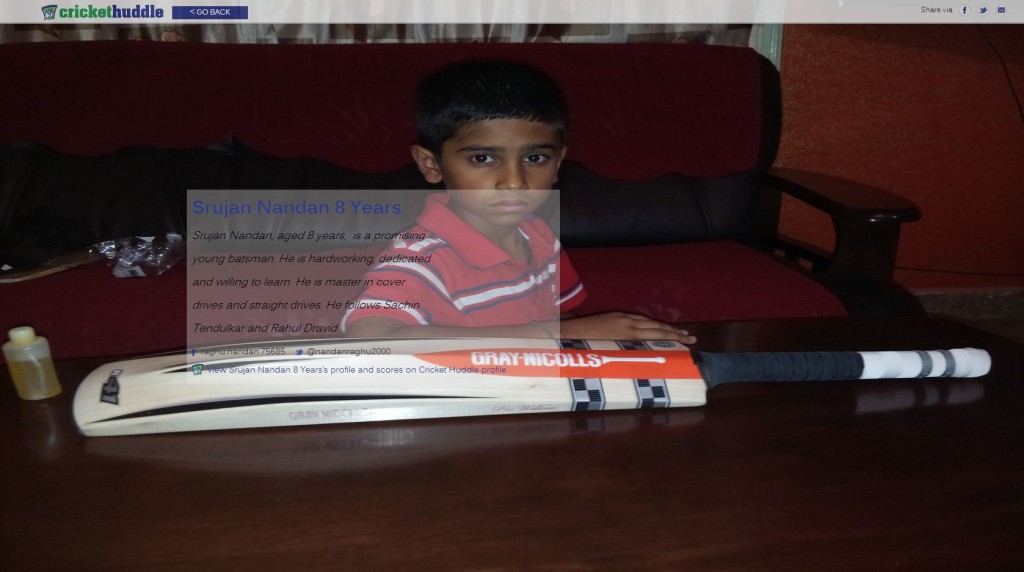 In our case, we have an 8 year old prodigy Srujan Nandan, who has created this beautiful splash page ( Account managed by his father).
What do you think about these new changes ?
Did you like them ?
We love chatting. Send us an email at info@crickethuddle.com or tweet us. We sure would love to hear from you!
If we have missed out on anything, bring it to our notice in the comments section below.